| | |
| --- | --- |
| | 10 sew-in magnets 12/2 with round pvc cover |
Details
These are disc magnets (12 x 2 mm) with an adhesive force of approximately 1 kg, shrink-wrapped into a round PVC cover. They can be sewn into clothing or used in wet surroundings without rusting.

Technical data:
Neodymium disc-magnets (NdFeB)
magnetising N35
coating Zinc (Zn)
hold power approx. 1,2 kg
weight: 2mm
| | |
| --- | --- |
| Diameter: | 12 mm |
| Color: | silver |
| Thickness: | 2 mm |
| Cover | round transparant pvc cover with diameter 28 mm |
Clothing, ward ropes , shower ropes, stuffed toys, ...
Flat disc magnets, shrink-wrapped in sturdy plastic foil, to sew into clothing.
Thanks to the plastic covering, the magnets are water-proof and rust-proof and can be washed in the washing machine* and used outdoors and in wet surroundings.

You can sew one of these magnets into a shower curtain, for instance, so the curtain adheres to the bathtub.

For most applications you will need a magnet pair, hence, the magnets are available in pairs on a plastic strip. The plastic strip separates the magnetic pairs and makes the handling easier:Peel off two opposite magnets from the strip and let them stick together.

Sew the lower magnet to the fabric. The top magnet broadly shields the magnetic field, so the magnets don't get caught at the 'foot' of the sewing machine** during sewing.

Now sew on the top magnet as counterpart. This ensures that the magnets don't suddenly repel each other.

Many washing machines are magnetic. Use a laundry bag and choose the delicate cycle (no spinning). Do not wash magnets hotter than 80° C to avoid demagnetisation (losing magnet power).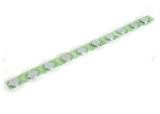 Step back